About the "Nostalgia" Soundtrack
For six years, with director James Bartling, we have worked extensively on Nostalgia's sound design and music score, and a theatrical release for the movie has been scheduled to begin in March of 2010. Nostalgia is unique in that the entire script is completely non-fiction, not following the traditional three-act structure, compounded with the fact that the real people from the events play themselves in the picture, and the original locations were used whenever possible. Therefore, this is a one-of-a-kind entity that cannot be easily categorized.
By extension, Nostalgia's music score is equally unique in that this is the first time in movie history where the entire film score is entirely composed with human voice only and NO additional instruments. Over thirty individual AB Audio Visual clients have vocally contributed to Nostalgia's score, not including the contributing choirs. The vocalists and compositions are from numerous ethnic backgrounds; the genres range from classical to tribal. The recording of this music ranges from one-take solos to quarter-second edits. You have to hear this to fully understand how original this concept is.
Arlan Boll
Nostalgia can be purchased to download at these Internet sites:
iTunes, Rhapsody, Napster, eMusic, IMVU. Amazon MP3, Lala, Shockhound, LimeWire Store
Track List
"Nostalgia" Original Voice-Only Soundtrack Album
Nostalgia Theme (Intro) 03:08
Roy & Mo (O & D Dance) 02:23
Perro Passing 01:25
The Angel 01:03
Sucks Man 02:06
Socks Man 01:10
Get A Haircut 01:06
Window Shopping (Lucky Stone) 01:21
May I 00:38
Batra Dreams 04:12
The Tour 02:08
All Day (The Spell) 02:06
Cut & Dried 00:47
How To Build The Sign Of Life 01:10
Quad Chaos 00:46
The Augury Parade Part 1 & 2 01:20
You're Never Alone Part 1 & 2 02:19
When I Was Young 01:43
Dont Be So Hard On Yourself 02:47
Precious Memories 01:12
For You 06:28
Calliope 00:42
Total Time 39:20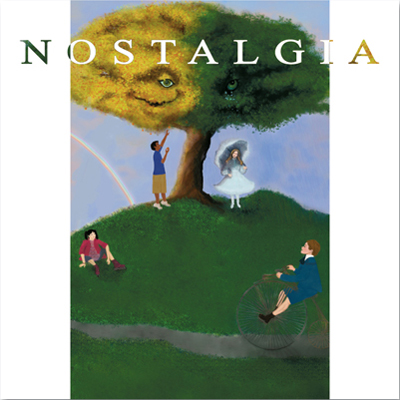 Recorded & Mastered @
AB Audio Visual Ent., Inc.
Long Beach, California
Written and produced by Arlan Boll